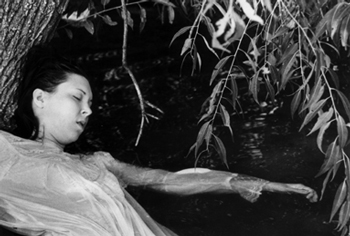 Ever thought you may have bit off a bit more than you could chew? I definatly recon I have now with this one. My first scene is so shitty and the whole concept and idea has so much potential that I just cannot fufill! Well not without anal planning and a psycho's view of theory and structure anyway...
I just feel that this idea landed on me and I just can't do it justice!
My plot is really weak - best I suppose to just keep the structure and plot simple (if I get too elaborate I'll just screw it up!) so its a 4 act play - 4 monoscenes (different to what I've ever done before)
1. a collage scene - the three main characters speak about their stories and how their stories differ from what is usually percieved of them - its a collage sceene because the speach is peppered with bits of shakespeare, fiction, Hans Anderson and Biographies... Its me being lazy and pinching bits!
2. Ophelias story - acted out with the one actor and more of a monolouge
3. The Mermaids Story - same as
4. Kirsten Pfaff's story - same as
The Mermaids story in Liniar, Ophelias is in a spiral structure - hte epicentre and starting point is when she is potty and Kirstens runs backwards to give a futile "happy ending"
The stories are told in chronological pattern bringing the audience right up to present day (ish) with KP's story - reinforcing that the issues are still prelivant (made up that word, aint i clever!)
The women however do not speak to each other, they speak over each other and fail to see how similar they are.
aaaggghhhh!!!!
Any ideas anybody?